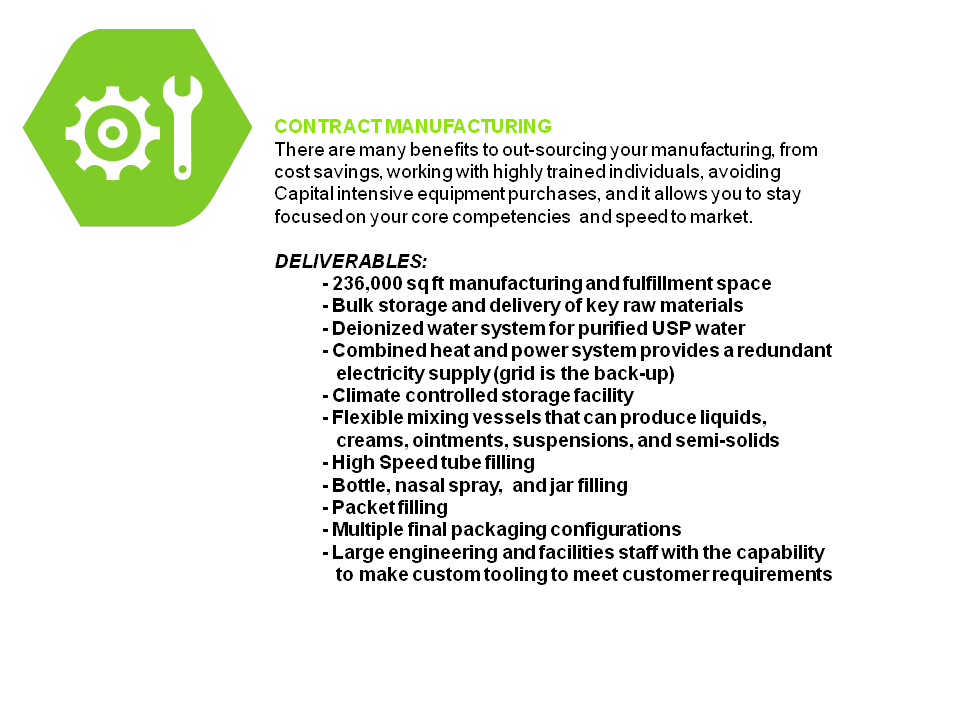 As an FDA audited and approved manufacturer it is our responsibility to manufacture products for the public consumer that are of the highest quality. This is a responsibility that we embrace throughout the entire organization. Through our commitment to production technology and quality personnel we are dedicated to manufacturing your product under the strictest of cGMP procedures.
Compounding
Climate-controlled 200 ton capacity raw materials storage
10,000 gallon sorbitol, glycerin and petrolatum tanks on site
12,000 liter stainless steel deionized water holding tank
Environmentally controlled, self-contained compounding suites
800 liter mixers with heating/cooling: 10°C to 100°C
7 – Compounding fill lines
5 – Nauta mixers
2 – Blade stator mixing tanks
6-Versators, 50 l⁄m capacity
Sheffield has the capability of compounding semi-solids, creams, ointments, liquids & gels, coupled with filling the product into tubes and bottles of various fills and sizes.
We manufacture for Domestic and Worldwide distribution and export to over 50 countries worldwide. Our markets include but are not limited to:
Generics
NBE's for toothpastes, topical creams, gels, pastes,
cosmetics, and ointments.
Full Turnkey Contract Packaging available.
Contract Packaging/Private Label
Our specialty is packaging and filling in laminate, aluminum, and plastic tubes. To view one of our many state of the art filling machines in action, please click here (requires a broadband connection).
Filling
Versitle TGM Machines and High Speed Comadis CD180 Fillers
Heated / chilled product hoppers
Aluminum, laminate, polythene and polyfoil tubes
Packet Filling
Custom Case Labeling
Display, Inner Case, Gift Pack