Sheffield Pharmaceuticals Teams Up with the TVCCA and Cumulus Media to Hold a Public Winter Warm Up Snow Boot Drive for Children
FOR IMMEDIATE RELEASE
Media Contact:
Lisa Murray
Trevi Communications, Inc.
978.750.0333 / 617.835.0396
lisa@trevicomm.com
New London, CT — November 15, 2016— Sheffield Pharmaceuticals announces that it has teamed up with the Thames Valley Council for Community Action, Inc. (TVCCA) and Cumulus Media to hold a public "Winter Warm Up Snow Boot Drive" on Friday, November 18th from 8:30–10:30 a.m. at Sheffield's headquarters, New London, Connecticut. As part of the TVCCA's annual Santa Anonymous Boot Project, this initiative will provide winter boots for children and adults in New London County, Windham County and part of Tolland County for the holidays.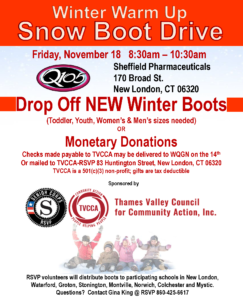 Interested donors can drop off new, unwrapped boots at Sheffield's offices at 170 Broad Street on Friday, November 18th between 8:30-10:30am. Cash and check donations will also be accepted. Jennifer Johnson, Director of TVCCA Volunteer Services and Sheffield staff, along with Cumulus employees and the Q105 Street Team, will be on hand to staff the collection table. Commenting on the boot drive, Johnson said, "TVCCA staff and volunteers are hard at work gathering boots already. Boot requests come from schools and agencies in New London and Windham counties. We have a record number of requests in New London County this year. We hope to deliver approximately 800 pairs of boots to local schools on December 15th and 16th."
Jeffrey Davis, Sheffield Pharmaceuticals President and CEO, said, "Sheffield's Teresa Preston, introduced us to the TVCCA's annual Santa Anonymous Boot Project 16 years ago, and we have supported this initiative ever since. We are excited to host a boot drive at our offices to help those in need in our community."
About TVCCA
TVCCA is a private, non-profit Community Action Agency, which was incorporated in 1965. TVCCA is well recognized as a community leader and partner in advocating for and meeting the needs of the region's economically and otherwise disadvantaged citizens.
About Sheffield Pharmaceuticals
Sheffield Pharmaceuticals is one of the nation's fastest growing manufacturers of over-the-counter (OTC) products to retailers and drug store chains. Sheffield produces over 100 different formulas, ranging from prescription and OTC health care products to cosmetics, and distributes to over 70,000 stores globally. From product development, to packaging design, to the final manufacture, Sheffield has the knowledge and expertise to take a product from concept to market smoothly and efficiently.
For contract manufacturing customers and joint ventures, Sheffield's value-add can include more than manufacturing. Sheffield can provide a suite of services, including sales and marketing plans, formula refinement in our R&D facilities, product development from concept to execution, fulfillment and logistics, chemicals procurement, and regulatory expertise. The company is dedicated to providing the highest quality service and products to our customers in strict accordance with all FDA (cGMP) regulations and procedures. Sheffield employs 175 in New London, CT.